When Hannah contacted me to say she was getting married at Seminary Hill Cidery just up the road in Callicoon, NY, she asked if my wedding photography business included elopements. My answer was an enthusiastic "YES!"
Elopements and micro-weddings here in the Catskills have become increasingly popular since the pandemic began, and even as vaccines have allowed us to get back to gathering in the way we once did, I'm noticing that a lot of couples are choosing this more low-key and laid back option anyway. They're no longer doing it because they have to but because they want to, and the results are these incredibly personal wedding ceremonies and a whole lot less stress for the couples.
Thinking about going the elopement route or booking a wedding at Seminary Hill Cidery? Let's dive into the photos, shall we?
Callicoon Wedding Views: The Delaware River
I like to walk the property of the ceremony site with my couples, and Hannah and Tyler's was no different. We went out to the cidery in early November, after the fall leaves that have helped make the Catskills a wedding destination were gone to take a look at the site and discuss what would be best for their photos.
Their wedding would be in December, and they knew there would be no fall foliage, but they had some hopes for snow and one big request: Seminary Hill is located atop a very big hill in Callicoon with sweeping views of the Delaware River Valley.
As someone who grew up in Callicoon proper and was actually raised right on the river, I have to be honest — even I'm awed by the views. It's stunning to remember that I grew up and am able to live and take photos in an actual national park. No matter what the weather brought that day, Hannah and Tyler hoped that I could capture some of that sweeping scenery.
That's exactly what we did!
You can see from the shadows that the sun was at its highest point — the ceremony was right at noon — and unfortunately Mother Nature didn't cooperate when it came to those snowy wishes. But we were able to bring the beauty of the Delaware River into their photos by setting up on the peak of the hill overlooking the river valley.
Candid Wedding Moments
Another thing Hannah and Tyler asked me to do at their wedding was to avoid overly posed photos in favor of capturing the details of their day and the emotions of the day. As a photojournalist drawn most to documentary photography, this was music to my ears!
While we did have a few quick posed shots of family, rather than a long list of poses with small groups of people, they asked for just quick photos with large groups of family from either side of the aisle (so to speak) and then left me to focus on capturing them as they are.
Hannah has an infectious laugh that will light up the room, and sitting down the edit the photos, I could literally hear it ringing out in my ears. Tell me you don't hear it too:
I was able to focus too on Tyler's gentle soul and his devotion to his new wife, along with the beautiful details the couple put into every part of the day from Hannah's hand embroidery to her little love notes for Tyler. Several of the the couple's dogs were even on hand to see Mom and Dad get married — and I'm fully on board with more dogs at weddings!
Hand Fasting
This couple also opted to seal their love with a hand fast, yet another trend that has been taking off in recent years. Based in an ancient Celtic ritual, this simple but moving tradition involves wrapping the bride and groom's hands together with fabric to symbolize their two souls coming together. Although it was originally done at the start of an engagement, hand fasting has become a means for couples to show their commitment to one another at their weddings in front of friends and family with the officiant either performing this in lieu of a ring exchange or — as Tyler and Hannah did — in addition to the giving and receiving of rings.
The wrapping is done loosely so the couple and stay "tied" for photos or pull apart.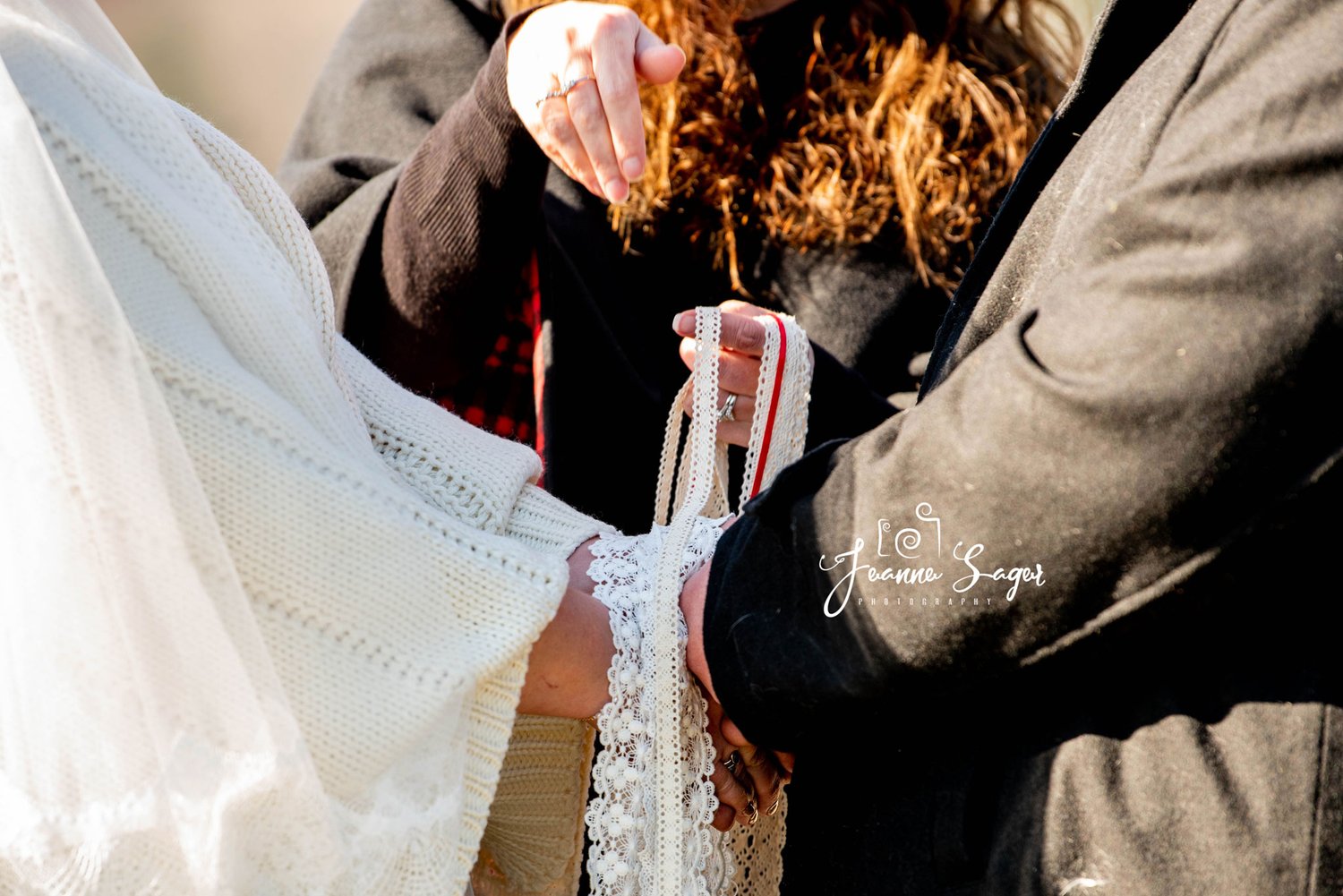 Curious about elopements or weddings? Contact me with any questions!